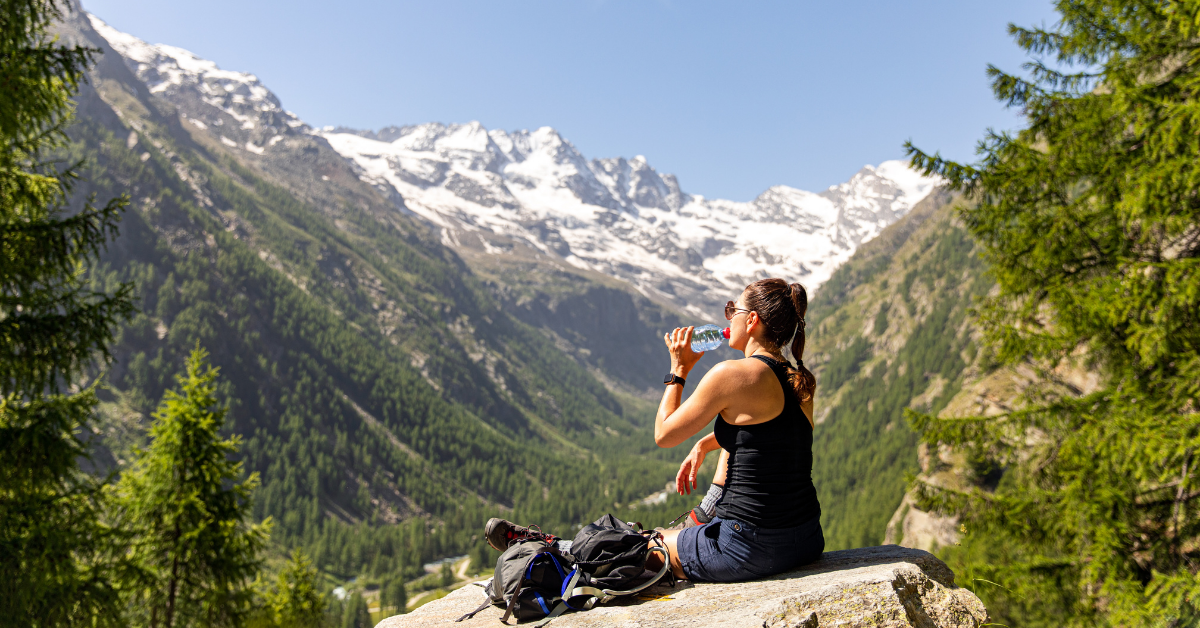 There is something magical about hiking. Not only does it allow you to take a break from your everyday life, but it allows you to do so while you're surrounded by the beauty of mother nature.
And what better time to start hiking than spring! With everything starting anew, the trails will lead you to endless beauty.
But before you start exploring, it is important to note that hiking is not an activity you can simply show up and participate in. Like most outdoor adventures, hiking requires a lot of preparation. So if you're ready to start your spring hiking journey, this blog post is for you.
THE TEN ESSENTIALS
On every hike, regardless of the season, you should always have these ten essential items in your backpack. The essentials are:
Navigation (map, compass, altimeter, GPS device, etc.)

Headlamp

Sun protection (hat, sunscreen, sunglasses)

First aid kit

Knife

Fire (match, lighter, and stove)

Shelter (tent)

Extra food

Extra snacks

Extra clothes
It may seem excessive, but they are an important part of hiking safety, and luckily most of these items don't weigh a lot!
WHAT TO WEAR WHEN HIKING
The weather outdoors can change at a moment's notice. Regardless of the season, the weather outdoors is not at all reliable. Even if you checked the weather right before leaving, it could still change by the time you get to the trailhead. Therefore, always pack extra layers.
The number one thing to keep in mind when buying hiking clothing is to avoid cotton as it's heavier than synthetic fabrics and absorbs sweat, which is a no-go for hiking. You want fabrics that dry fast, such as polyester.
HIKING LAYERS
When it comes to hiking clothing, a layering system consists of:
Base layer

Mid-layer

Outer layer
BASE LAYER
The base layer is the one that sits on your skin. It's the layer with the least amount of insulation, but it's an important layer as it keeps your body's natural temperature. In the spring months, depending on the weather, a base layer may be a light long sleeve top or a short-sleeved top. Since the temperatures vary greatly, it is a good idea to pack a tank top base layer in case it ends up being a hot spring day.
MID-LAYER
Mid-layer goes on top of your base layer and it is the layer that is supposed to have insulating properties. Contrary to popular belief, a mid-layer is not a light layer that goes on top of your base layer. In fact, depending on the season, a mid-layer changes significantly. For example, in the winter months, it would be a thick jacket and in the spring months, it would be a fleece sweater. The purpose of a mid-layer is to keep you warm when needed.
OUTER LAYER
The outer layer is meant to be a shell jacket. This layer goes on top of all your other layers, therefore it is not meant to have insulating properties. The purpose of the outer layer is to protect you from wind, rain, and snow; therefore, it needs to be waterproof and windproof. For spring hiking, an outer shell layer will definitely come in handy during unpredictable rainstorms!
HIKING PANTS
Many people forget about hiking pants when they are preparing themselves. People tend to wear workout leggings or shorts while hiking because they believe it's transferable. But that is incorrect. Workout clothing is not designed for outdoor conditions, such as passing through narrow tree lines or scrambling down a mountain.
Hence, workout clothing that is worn while hiking will rip at some point. Therefore, you want pants designed specifically for hiking as they will be durable and rip-resistant.
For the spring hiking season, you want leggings or pants that are thinner material. Glyder leggings are an excellent option. You can find them at rei.com.
HIKING BOOTS
Hiking boots are an absolute must. They can make or break your hiking experience. Investing in a quality pair of hiking boots will save you so much trouble and make your hiking journey that much better.
Since everyone's feet are different, what may work for you may not work for another person. The main components to look for are comfortable, waterproof, and lightweight.
Check out Backountry.com for a great selection.
TENT
Whether you're going on a day hike or overnight hike, always carry a tent. You need to know that if something happens, you will be able to survive the night. Sometimes help is unable to get to you right away so a tent is a must.
A two-person is the most ideal option as it is lightweight, yet spacious. A great option is MSR Hubba Hubba NX 2 Tent. It can handle wind and rain; therefore, it's great for taking on hiking trips.
RADIATE CAMPFIRE
A portable campfire may not seem like an essential, and most people skip it because they assume it's unnecessary. But a quality campfire will change your life for the better. Not only will you be able to enjoy the warmth on your hiking adventures, but it will also come in handy in case of an emergency.
Check out Radiate Campfire Mini for all the details. It is lightweight and easy to use, and you will be grateful to have it with you on all your hiking adventures. Don't forget to bring matches to light it! 
NAVIGATION
One of the key components of hiking is familiarizing yourself with the hike and being prepared for it. To ensure you always know where you're going, having a GPS is key. Not only will it help for navigation and emergencies, but it will also allow you to let your loved ones know your whereabouts and inform them you're safe.
---
72 comments
---
---