Outdoor Dining: Patio Heaters and Fire Pits
The winter season is here and it certainly can get a tad chilly out there. You may be searching for a way to stay warm at home, or looking for a source of heat for your restaurant's outdoor patio, while enjoying your outdoor space. The good news is you have many options!
Current Covid-19 Protocols and Changes
Covid-19 certainly has changed the way many of us gather and spend quality time with others. Those nights out at the bar or the hip, crowded restaurant downtown with an hour wait have been traded in for cozy nights at home with immediate family, at a friend's home, or at a restaurant with limited capacity and socially distanced outdoor seating. However, in these chilly winter months,  being outside to safely enjoy restaurant dining, despite the virus, can be uncomfortable as the temperature drops.
Fire: Warmth and Comfort
When it comes to patio seating, whether you are in the comfort of your own home or out at a restaurant, an outdoor heater enhances the experience, especially in colder temperatures. Social distancing is made possible with a variety of different types of outdoor heaters, patio heaters, and outdoor fire pits.
Social gatherings with friends and family, roasting marshmallows, and even dates can take place around a warm fire. Outdoor spaces can certainly enhance their experience and create a wonderful ambiance with patio heaters.  Not only are patio heaters and outdoor fire pits perfect for the colder months, but they also offer a great time for those summer nights as well. They can help keep the bugs at bay and create a calming and enchanting ambiance.
Radiate Campfire to the Rescue
With the Radiate Portable Campfire, gone are the days of struggling to light a fire, the frustration of keeping it burning, and the worry of putting it out once you are done enjoying it. With this portable outdoor fire, there is no need to buy or gather wood to build a big, smoldering fire. Radiate is ready to use and easy to snuff out. Additionally, once the fire is out, there is no messy, ashy cleanup to deal with.
With just a match or a lighter, you are on your way to a perfect patio or outdoor heater. No frustrating kindling or smoky smell? Yes, please! Made from recycled soy wax and paper briquettes, the Radiate Campfire is reusable and easy to use.  Its size is perfect for home use with just one Radiate or buy a multi-pack and place them throughout your restaurant patio to reach multiple guests. With portability and convenience on your side, you can't go wrong with this game-changing option!
Other Outdoor Dining Patio Heater Options
Having fun and staying warm outdoors can be made possible with patio heaters and outdoor fire pits! If you do not have the need for portability or you don't enjoy the feel of a natural fire, here are some other great alternatives.
Restaurant Usage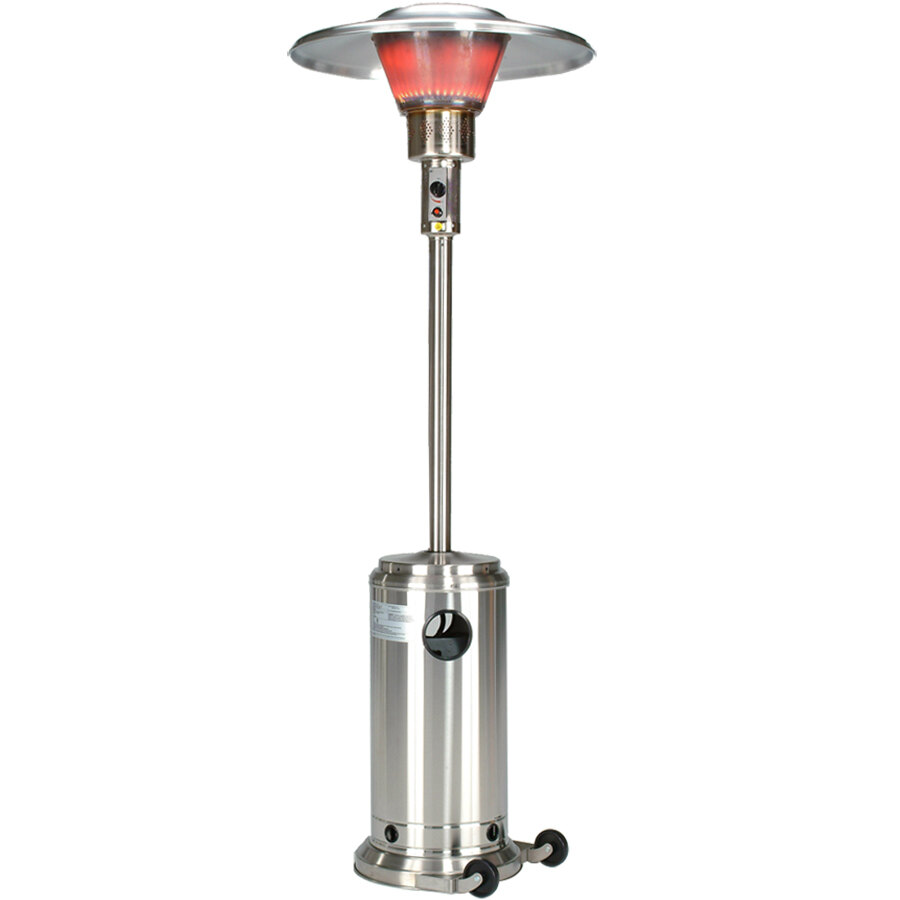 With commercial patio heaters such as the Schwank Ltd PS-4005-CB, those dining out can be comfortable within a twenty-foot diameter of this liquid gas propane heater. In comparison to electric patio heaters, propane heaters provide much more heat output due to the combustion of natural gas. This heater has a huge gas tank and is on wheels so it can be moved all around a patio space for optimal patio heating. The wheels can also be folded in for storage purposes. Being propane powered, there is no messy ash or soot to clean up after use. Additionally, propane heaters are said to be better for both you and the environment.
Another great option is the Schwank ES-0519-12 Electric Stainless Steel Outdoor Patio Heater. It is made entirely of stainless steel and can be mounted on a wall or ceiling within a restaurant or a covered patio space. The overhead heating does not take up valuable floor space within restaurants and gives off non-intrusive heat above your head. Electric heaters are superb because they simply need to be plugged in to be used. Guests will be thrilled to be warm and toasty while gathering on the restaurant patio.
While both of the above heaters are great options for restaurants, keep in mind that having a larger heater to serve several people is not only more expensive, but can be tricky to disperse the heat evenly throughout the seating space.  For instance, customers closest to the heater may become too hot, while those further away may be too cold. Even with commercial heaters, we recommend having a few Radiate Portable Campfires on hand to make those customers who seem to be too far from the heating element more comfortable.
Home Patio Usage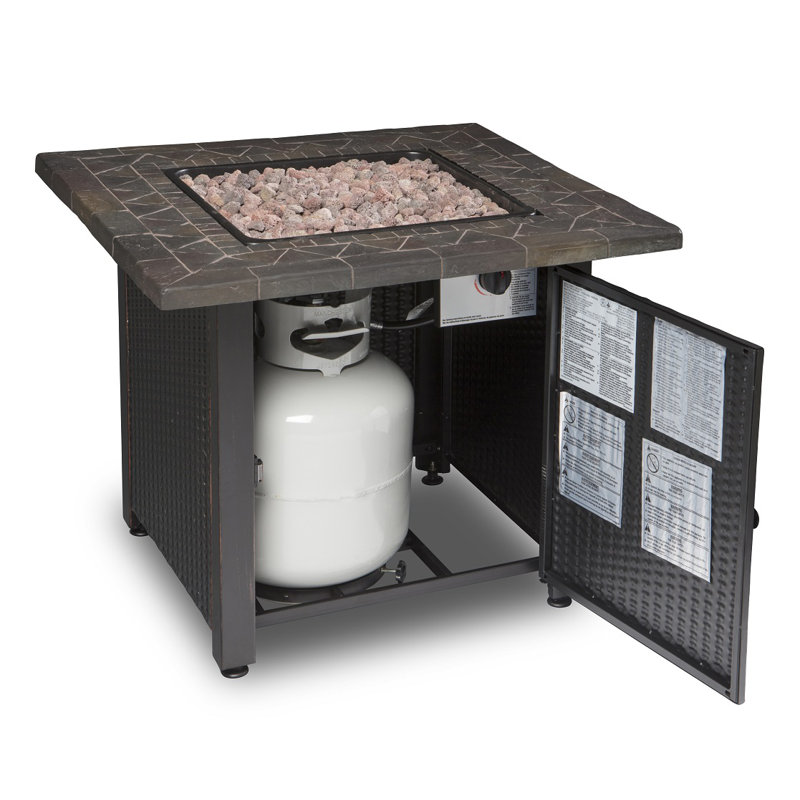 Heating things up on your patio at home is possible with several different options. If you are looking for the power of a commercial heater that you would find at a restaurant, then the Hampton Bay 48000 BTU Stainless Steel Patio Heater is a great option for you! It is a propane heater with an adjustable heat control system. Not to mention, the heater is aesthetically pleasing with its sleek stainless-steel look, perfect for keeping your home patio beautiful. Snuggling up next to this professional-looking heater at home with your close family feels extravagant and luxurious and is sure to offer a fun-filled and cozy evening.
Another great option if you are gathering around on your patio at home and are looking for some warmth, this Outdoor Propane Fire Pit Table offers it all. The table resembles a high-end piece with a tile and steel mantel. The table has lava rocks to accent the fire perfectly while the propane fuel tank is hidden underneath, as to not take away from its beauty.  All you have to do is turn it on and a nice fire begins burning right at your patio table!
The Big Horn Wood Burning Fire Pit is perfect for you if you are looking to have a more authentic patio heater at home. This patio fire pit has an adjustable cooking grate so you can even cook over this heater once you get a fire going. The grate keeps the firewood burning for extended periods of time so you spend very little time tending to the fire, which can often become tedious and frustrating.
Heating things up at home or at a restaurant is made possible with many options to choose from. The choices available to you are endless with portability, electric, gas, table, and wood-burning heaters. Since we have had to change the way we spend our Friday nights out for the time being due to COVID-19, portable fires like our Radiate Portable Campfire, along with other outdoor patio heaters and outdoor fire pits are growing in popularity. Gone are the days of having to leave early or go inside because it just gets too cold. There is nothing like spending some quality time outside while snuggled up next to the fire. 
---
2586 comments
---
---